Carton Print Inspection System
High resolution smart camera-based system with optics and
state of the art customised illumination
Carton Print Inspection System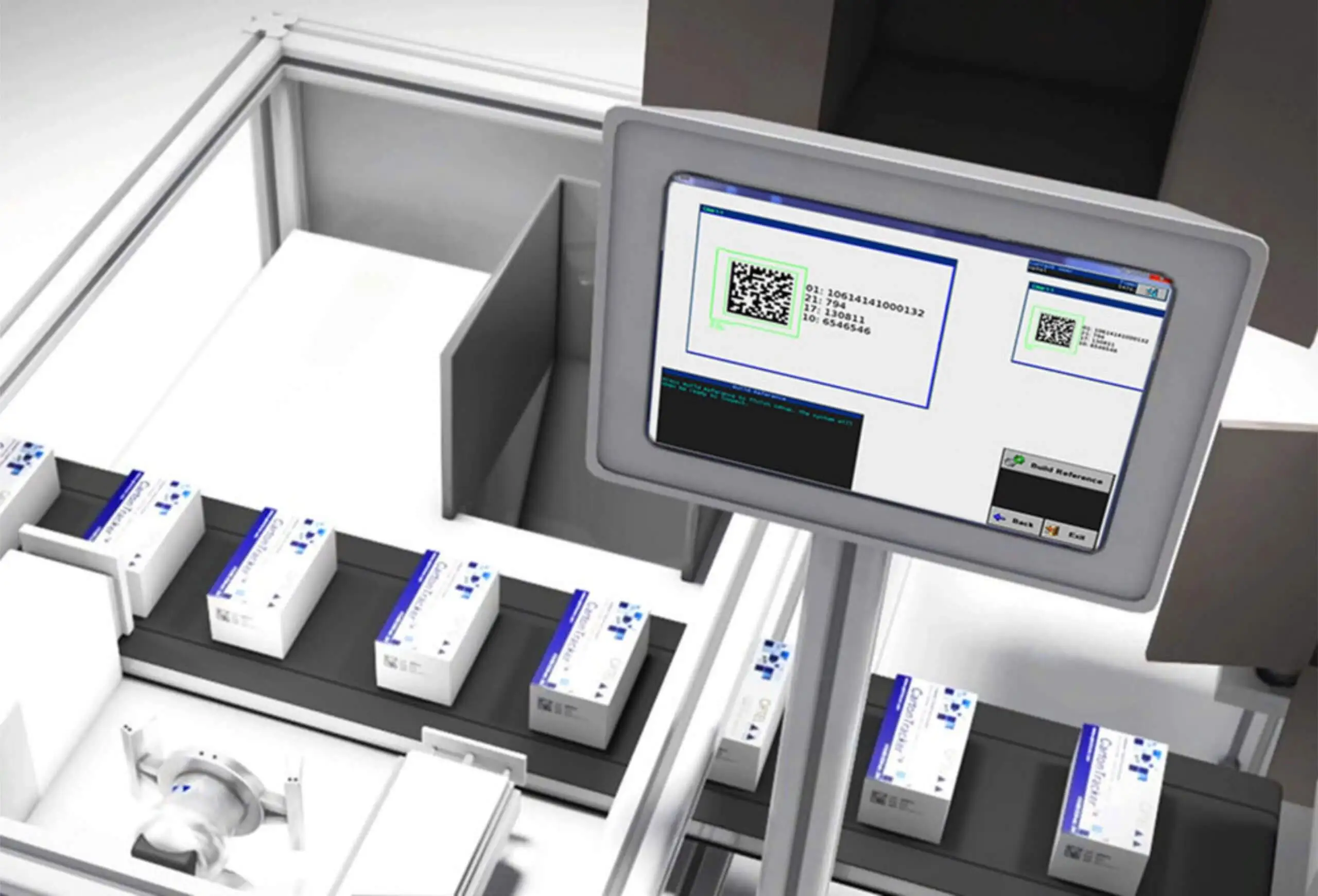 We provide Carton Print Inspection system to the Pharmaceutical Industry with large-scale of variety of solutions. The inspections include online batch code Inspection, 1D/2D code grade verification, Pharmacode verification, Color Verification, etc. We provide Track & Trace solutions for secondary cartons too.
OptoPixel provides entire solution for Carton Coding Inspection including Stacker Feeder, Conveyor, Coder, Inspection System and Automatic rejection. System can be configured for existing folded carton line. Hence, it also can be installed on high speed Cartonator machine for Pharmacode verification on flapper and batch-code inspection at output from the machine.
We are developing tailor-made solution as per customer's requirement. So, as per the carton size and weight, the solution can be designed. We also provide "Scan & Print" solution for shipper carton where camera scans the data from the carton and then gives relative data to online printer to print the same on the carton. Integration of online check-weigher is also possible with or solution for weigh and print and scan module.
OptoPixel provides entire conveyor machine with high-speed feeder, coder, camera inspection, rejection, and bunch-collection. For Flat carton, high-speed feeder is available that supports different sizes and for folded (filled) cartons, the machine can be supplied with separator and steady transportation for coding. OptoPixel provides machine with single point controlling software for Machine, Camera, and Printer. Entire Machine is 21CFR, Part-11 compliant.
OptoPixel Carton Inspection System can be easily integrated with existing line of user. The machine may be Auto-Cartonator machine or manual feeding conveyor. Sometime user has requirement for Pharmacode verification on leaflet and carton flapper on Auto-Cartonator machine, OptoPixel provides Add-On hardware for the same and all three cameras can be integrated with single inspection software.
Quicker Return of Investment
Manual inspection of carton printing quality is recurring cost and higher than Camera inspection. Customer needs to invest once and sat relaxed about the printing quality. OptoPixel System works with high speed and 100% accuracy whereas manual inspection has so many errors. Hence, Man-power management is getting hectic day by day. So, after all consideration, Vision system based inspection provides Return of Investment in short time period.
OptoPixel – Carton Inspection Solution Key Features
Ours is the best solution in delivering cost-effective print quality and integrity
management solutions to the Pharmaceutical Industry with below features:
Carton Inspection Machine System Specifications:
Frequently asked questions